EMS (European) move their Product Development to new offices in Perry Barr, Birmingham.
EMS (European) Product Development and
Trading Location Consolidates to New Offices
in Perry Barr, Birmingham

Following a busy year EMS (European) found that it was impractical to maintain our R & D Offices in Aldridge and as such we have relocated the Product Development area to a much larger space in Perry Barr in Birmingham.

This move has allowed us to expand and improve our workshop and development area and facilities as well as providing us with more space for meetings and a new administrative address for the company.

In the longer term we want to consolidate all of our facilities into one place, including the manufacturing and shipping department current ly in West Bromwich and the accounts department in Walsall however that is a year or two away at the moment.

The facilities are currently in the process of being completed however all product development, (software and hardware), product repair and refurbishment as well as product testing, (other than manufacturing testing), is now being undertaken at Perry Barr.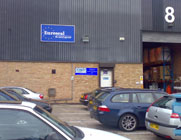 Our new address at this location is:
EMS (European) Ltd
Unit 8, Tamebridge Industrial Estate
Perry Barr
Birmingham
B42 2TX
United Kingdom
Tel: +44 1922 491063 Fax +44 1922 491064